If you're just joining us, this is the last part of our fireplace painting guide. In part #1, we talked about whether or not you should paint your brick. In part #2, we talked about different colors and techniques you can use to paint your fireplace. In this part, I'll be giving step-by-step instructions for the methods we discussed in part #2. Let's get started!
Prep: How to Clean Your Brick Fireplace
You'll need to clean your brick before painting so that the paint will adhere properly. Start by using a broom or vacuum to remove an soot, dirt, or dust from the brick. Then you'll need to use a cleaner.
Homemade Brick Cleaners
You can make natural brick cleaners with things you probably have in your house.
Mix cream of tartar and water to make a thin paste. Apply to the brick and let it sit for 10 minutes. Wipe it away with a damp cloth.
Mix equal parts vinegar and water in a spray bottle. Spray the bricks generously and let it sit for 10 minutes. Rub off with a damp cloth.
Mix 1/2 cup baking soda and 3 tbsp of dish detergent to make a paste. Apply to the brick, let it sit for 10 minutes, and rinse away with a wet cloth.
Store Bought Cleaners
You can also buy cleaners specifically made for brick. Rutland makes a good brick and stone cleaner. It comes in a spray bottle. Simply spray on the brick and wipe clean.
For really tough stains, you can consider trisodium phosphate. This is a strong chemical that you can buy at your local hardware store. Make sure to wear appropriate protective equipment if you use it.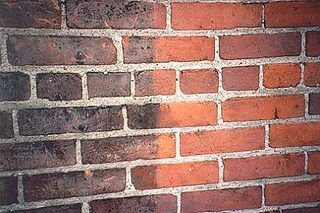 Whatever cleaning method you choose, make sure to thoroughly remove the cleaner and allow the brick to dry completely.
How to Paint Brick a Solid Color
This is a quick and easy way to give your fireplace a facelift. Start by picking out an indoor latex based paint color; it can have any finish. (Not sure what color you want? Check out part #2 for some quick tips!) Then collect your supplies:
painter's tape
drop cloth
paint roller
large, sturdy paint brush
oil-based primer
latex paint
Now let's get painting!
Protect your floors and furniture with a drop cloth. Line the fireplace with painter's tape so you only get paint on the bricks.
Apply the primer with your large brush or roller, using the small brush to paint the mortar between the bricks. Rinse your brushes and wait for the primer to dry.
Once the primer is completely dry, apply your latex paint in the same manner. You can apply multiple coats if you desire; just be sure to let each coat dry before applying the next. If you are doing a white painted fireplace, you will probably need multiple coats of your white latex paint or multiple coats of the primer.
Optional: Once the paint has dried, you can paint on a clear matte top coat. This makes cleaning your fireplace super easy.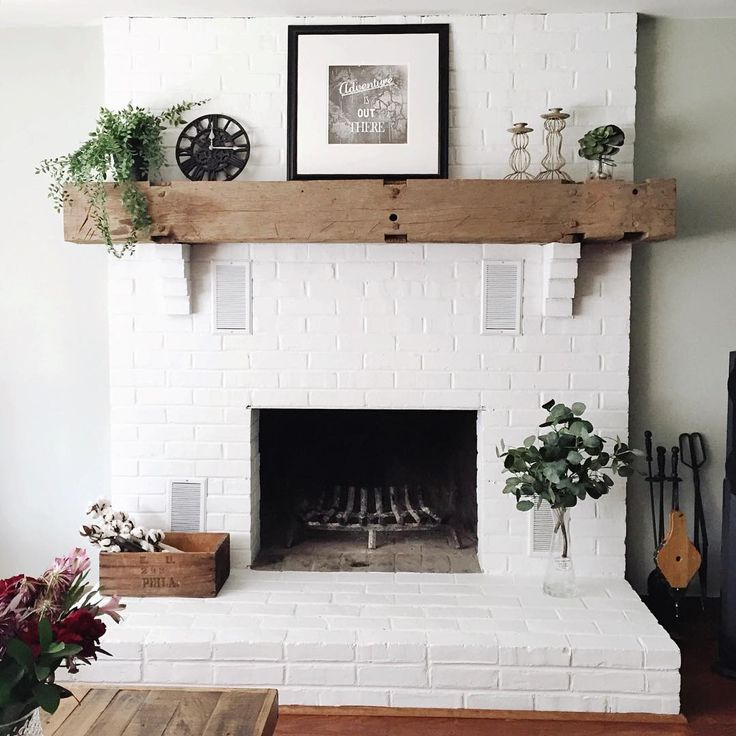 How to Whitewash Brick
Whitewashing your wood burning fireplace allows some of the natural color to peak through. You'll need:
latex paint
water
old rags
paintbrush
mixing stick
bucket
drop cloth
painter's tape
Before you get started, be sure to cover any furniture and flooring with the drop cloth. You'll also want to put tape around the edges of the fireplace to ensure that you only paint the brick.
Thoroughly mix one part water with one part latex paint. (The paint should be a white shade.)
Working one small section at a time, brush this mixture over the bricks, ensuring that you cover the mortar as well. Take the rag and wipe off as much or little of the paint as you prefer. The more you take off, the more of the original brick will show through.
Continue this process, working in small sections, until all of the brick is covered.
How to German Schmear Brick
The German smear method turns your fireplace into a timeless centerpiece.
drop cloth
painter's tape
bucket
water
white mortar
drill with mortar mixer
sponges and old rags
Like the other projects, start by protecting your surfaces with the drop cloth. Line the edges of your fireplace with painter's tape to avoid getting mortar on the surrounding materials.
Mix the mortar according to the directions on it's packaging. Mix water until it is the consistency of honey.
Working in small sections, use a wet sponge to apply the mortar to the brick. Wipe away what you don't like and add more where you need to. It will be thick in some places and thin in others. It may be helpful to have a picture of German schmeared brick that you like to refer to. Don't forget to step back to get the full picture.
Keep working one small section at a time until the fireplace is done.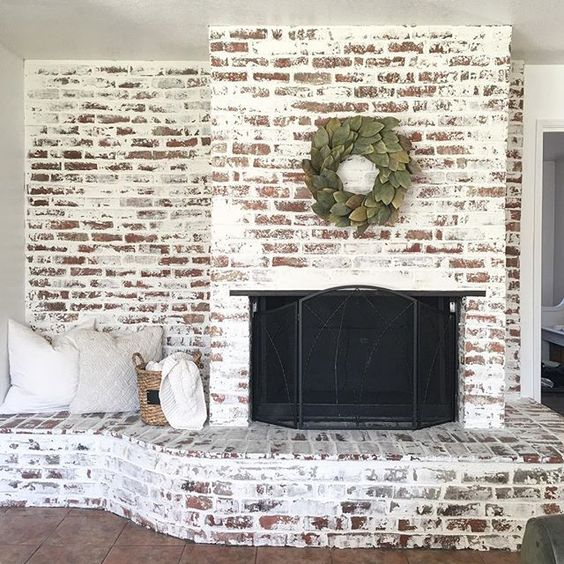 How Achieve a Natural Brick Look with Paint
The Brick-Anew paint kit is made to be an easy DIY project that makes your fireplace look like it's been rebuilt with lighter brick. Even a beginner painter can achieve a super realistic look with this paint kit. If you choose to order this kit, you'll get all the supplies you need:
5 shades of paint
painter's tape
rollers
brushes
sponge
paint tray
step-by-step instructions
The Brick-Anew process involves painting on a base coat and then applying the five shades of "undertone" colors using a paint roller or a sponge according to the detailed instructions. The final result? A brick fireplace that looks like you ripped out the outdated brick and replaced it with a new lighter colored brick. The Brick-Anew Kit comes in three color choices.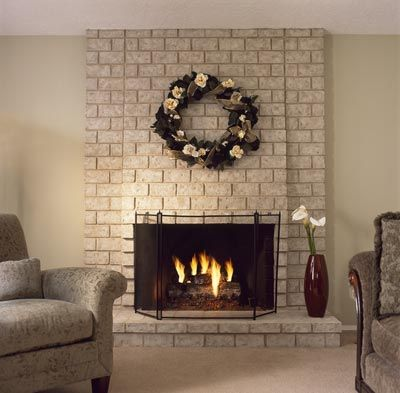 How to Stain Brick
Stain gives a very different look than paint. Pick out your favorite color and grab some supplies:
rubber gloves
stain
bucket
mixing stick
water
paint brush
Let's get started!
Test to see if your brick will absorb stain. Splash a little water on the brick. If it doesn't absorb, there are two possibilities:

There is a coating sealing your brick that will need to be removed. In a small area, apply a lacquer sealer. Let it sit for 10 minutes and wipe it off. Splash some water on that area to see if the brick absorbs it. If it doesn't, you can try a concrete sealer stripper. If that doesn't work, you'll have to move to option #2.
Some bricks are made to not absorb water. If you've tried removing a sealant with no luck, then your bricks won't absorb stain. Try a painting option instead.

Mix the stain with water according to the manufacturer's instructions. Try the stain on a small, inconspicuous area and let it dry completely before moving on with your project. Since stains are permanent, you need to be sure you're satisfied with the look of the stain.
Use your paintbrush to apply the stain to each brick, working carefully to avoid getting paint in the mortar lines. Work in a scattered pattern rather than in a straight line. Working in a scattered pattern gives a more natural look. Work carefully being sure not to drip stain or get stain on the mortar.
Let the stain dry completely.
Clean all tools immediately after finishing your project.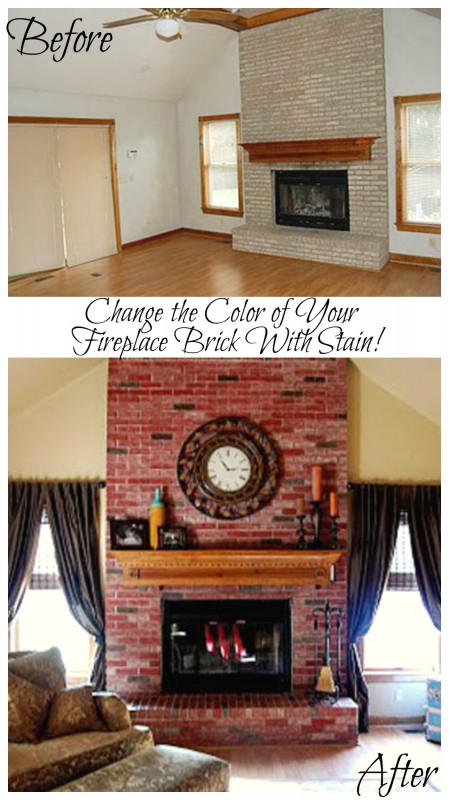 How to Clean and Paint the Firebox
The firebox is the part of your fireplace where the fire burns. After a long hard winter of hard work, the firebox turns into a filthy mess. Cleaning the firebox after fireplace season is over is essential to keeping your fireplace looking good. Let's get some supplies:
drop cloth
vacuum
soap, water, bucket, sponge
high-temperature paint
brush
Lay down a drop cloth to protect any furniture or flooring.
Remove any pieces of wood left over from past fires. Use a vacuum to remove all leftover soot, ashes, dust, and dirt. After the firebox is cleared of all debris, use soap, water, and a heavy duty scrub brush to clean the walls and floor of the firebox. Let it dry completely.
Optional: Put on some protective equipment on. The high heat paint has very strong fumes.
Use a high temperature paint such as Rutland's Grill and Stove Paint to coat the entire firebox. This high temperature paint withstands temperatures up to 1200 degrees Fahrenheit without bubbling, blistering, or peeling. Plus it comes in several colors! Most people prefer black since the dark color tends to hid stains better than lighter colors. The paint comes in spray or in brush-on cans.
You can also paint the wood holder/grate with this paint as well.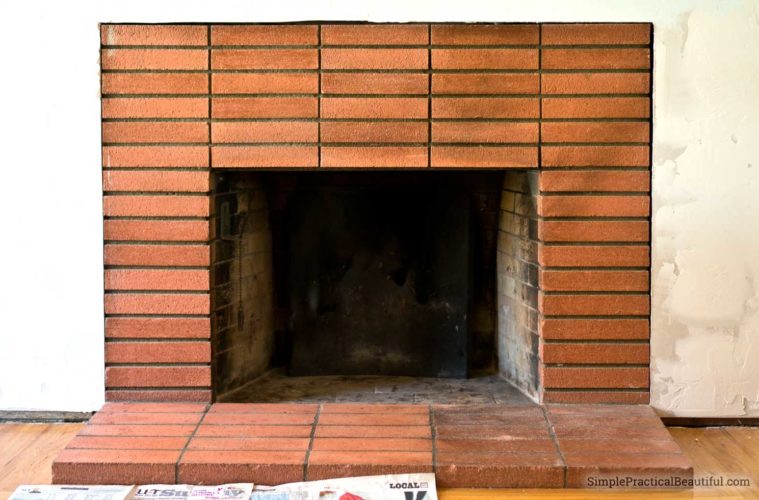 Final Thoughts
Painting your brick fireplace is be one of the best DIY projects you'll ever do. Inexpensive and easy, painting can transform the look of your your fireplace and your living room in just a few hours.  And if you don't like the final look, no problem. Just paint over the brick again with a different color or choose another remodeling option.  
If your outdated brick fireplace sucks the life out of your room, why not give painting a try? The fireplace should be the heart of the home, a soothing place for friends and family to gather or a spot to unwind after a hard day.
Start creating new memories by the fire. Paint your fireplace and see what happens. I think you'll be glad you did.