Hi welcome back to part #2 of our Fireplace Painting Guide.  You can access part #1 here.  Fireplace painting is a super easy and affordable way to radically update your family room. In this article, we'll be talking some specifics about paint type, color choice, and technique.
What Type of Paints Should be Used for Different Parts of the Fireplace?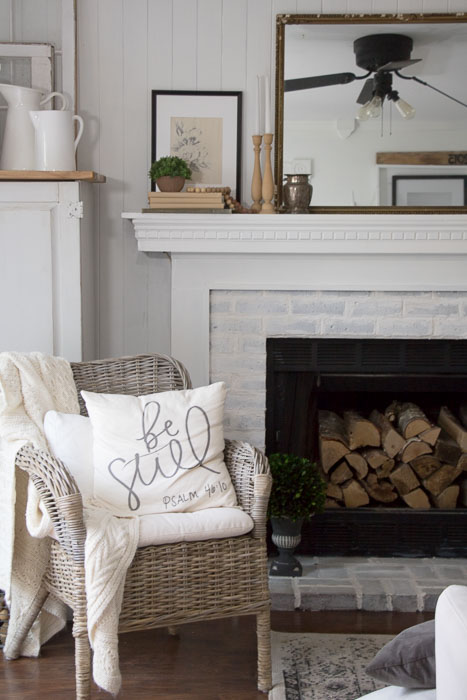 Fireplace Brick
If you plan to paint your fireplace brick one solid color, an indoor latex paint in flat, semi-gloss, or gloss can be used on the areas of the fireplace facing and fireplace surrounds.  You can choose from a variety of colors depending on the look you're trying to achieve.  Darker shades give a more dramatic look while lighter shades look more neutral.  Another option if you don't want a solid painted look is the Brick-Anew Paint Kit.  This kit is a latex-based product that contains several different shades of paint that work together to give you the look of real brick.  All materials are included in this easy, DIY kit.
Hearth
The ledge in front of the firebox can be painted with an indoor latex paint.  You might want to paint one or two coats of clear polyurethane to protect your painted surface since the hearth is the place where wood is stacked, fireplace dolls are place, and where some people will sit by the fire.
Firebox
The firebox is the area of the fireplace where the fire burns. Because of the unsightly soot that stains the firebox, painting the firebox black can hide the stains and give the fireplace a fresher, cleaner look. In a prefab fireplace, the firebox is a metal insert made to look like brick. In a masonry fireplace, the firebox is built from actual brick or stone.
This area gets extremely hot so a high-temperature paint is necessary.  We recommend a paint that can withstand temperatures up to 1200 degrees Fahrenheit.  There are a variety of high-temp paint colors.  From black to almond to dark green, you can find a color for every decor.
Mantel
The mantel shelf is sometimes made from the same brick as the fireplace.  Other types of mantels include wooden shelves and surrounds.  Wood or brick mantels can be painted much the same way as the fireplace brick.  Of course, the wood will need to be sanded and primed before painting.
Fireplace Doors
Many older fireplaces have dated brass fireplace doors.  Many people would like to paint these when they paint their fireplace.  This is possible, but typically the time and expense taking apart, prepping, and painting the doors is more expensive than simply buying some new fireplace doors.  Should you choose to paint them, the fireplace door frame can be painted with the same high-temperature paint as the firebox.
Gas Logs
Sorry, you shouldn't paint your gas logs.  However, oftentimes a good clean is all it takes to really update those fireplace logs.
What Color Should You Paint Your Brick Fireplace?
When choosing the right fireplace paint color and technique for your brick, it's easy to get overwhelmed with choices.  Choosing the right color reflects your personal style and your room's personality.  Think of the mood you want to project.  Whether you want to create a tranquil sanctuary or make a dramatic statement, paint colors can make all the difference in the look and feel you're trying to create.  Let's take a look at some painted brick color choices from bold to cool to naturally authentic.
Bold and Dramatic
Painting your fireplace a darker or vibrant color is adds flare to your living room. It is immediately eye-catching, especially if the walls are painted a lighter color. Black fireplace paint is especially popular.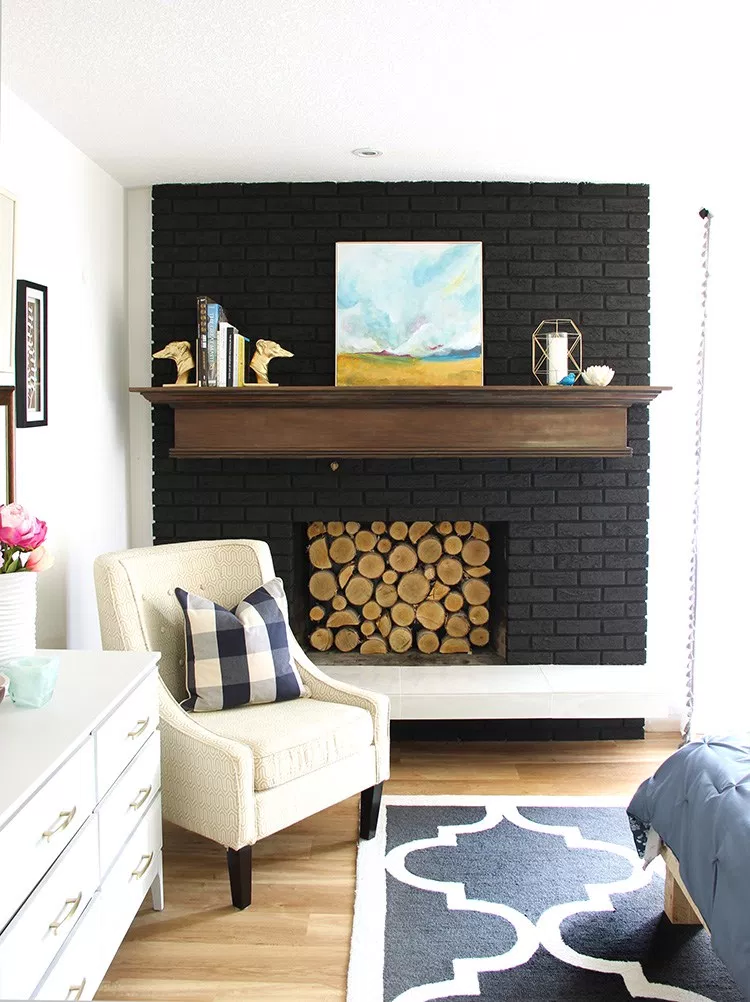 Natural: an authentic, "real brick" look
This may be surprising, but you can actually paint a brick fireplace to make it look like a new color of brick. The Brick-Anew Paint Kit is a one of a kind DIY project. It comes with instructions, brick fireplace paint, and all the tools you need to paint your fireplace to look like new, lighter brick. This is also a great technique to use if you have a full brick wall in your home.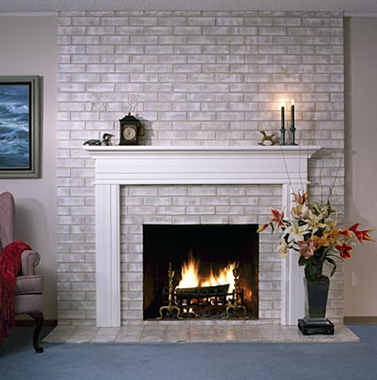 German Schmear
This technique adds class to your brick by making it look a bit older. It lightens up the room while preserving some of the red colors of the brick. Once its done you can use your interior designer skills to add your own style.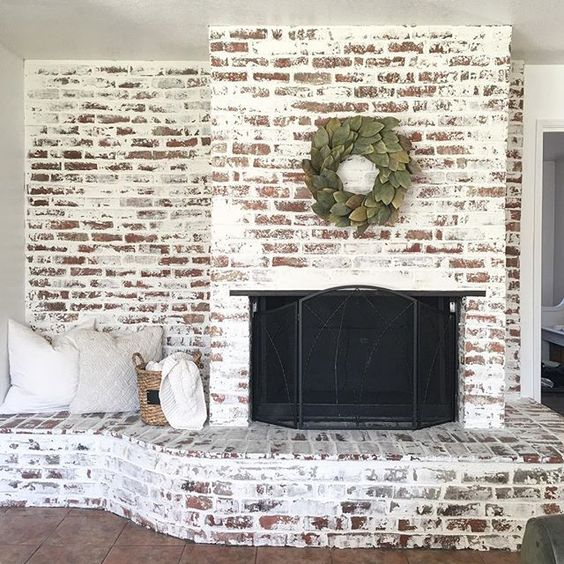 White
White fireplace paint is a super popular right now. A white fireplace adds brightness and a light-weight feel to the room. This look is especially nice with a natural wood mantel.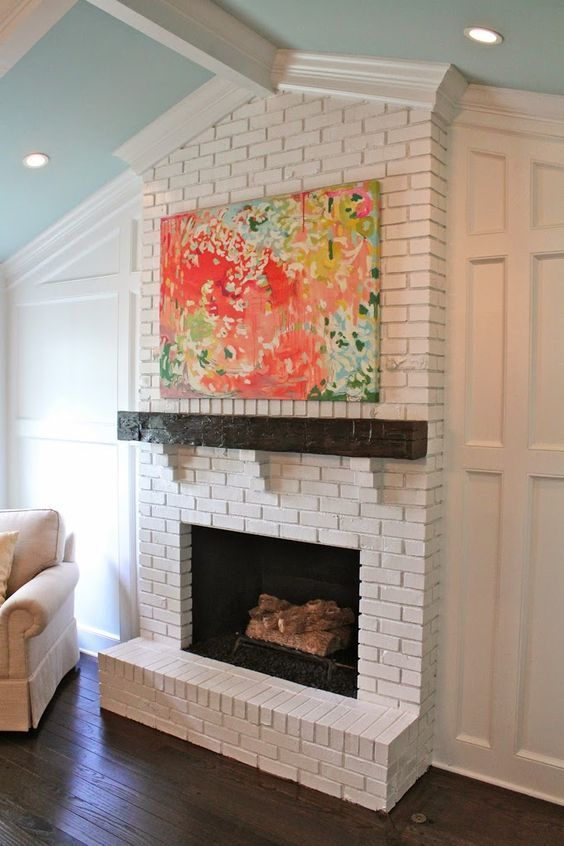 Whitewash
This is probably the easiest of the fireplace makeovers. Whitewash is similar to German schmear in that the white brightens the room, but some of the original brick still peaks through the white. But whitewashing and German schmear have two distinct characters. Whitewashing offers a creamy sort-of natural look.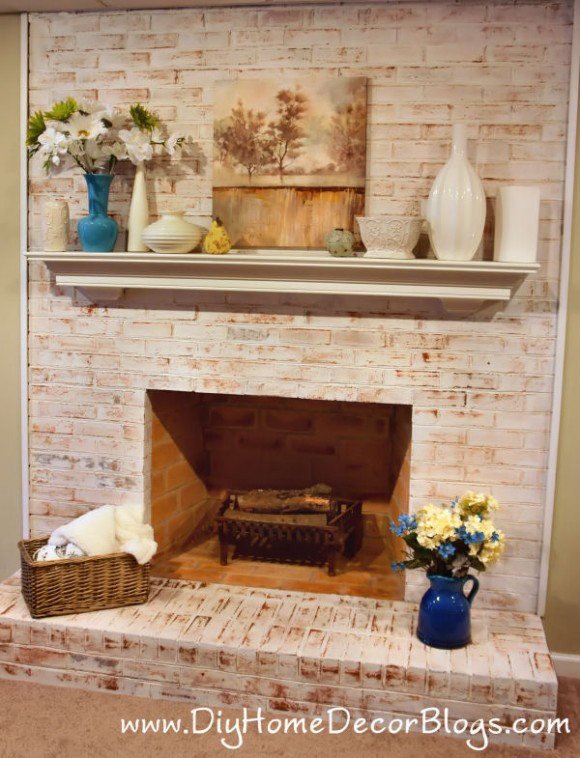 Solid Neutrals
From light gray to creamy tan, using a neutral color gives a dreamy feel to your room.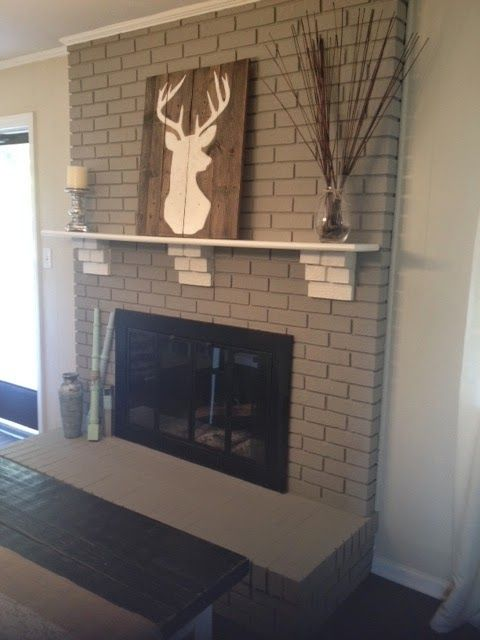 Brick Stain
Staining your brick is another way to get a natural look. Using brick stain is great for going from a light brick to a darker brick. Be sure to use your drop cloth to protect your floors and furniture! Stain can be hard to get off.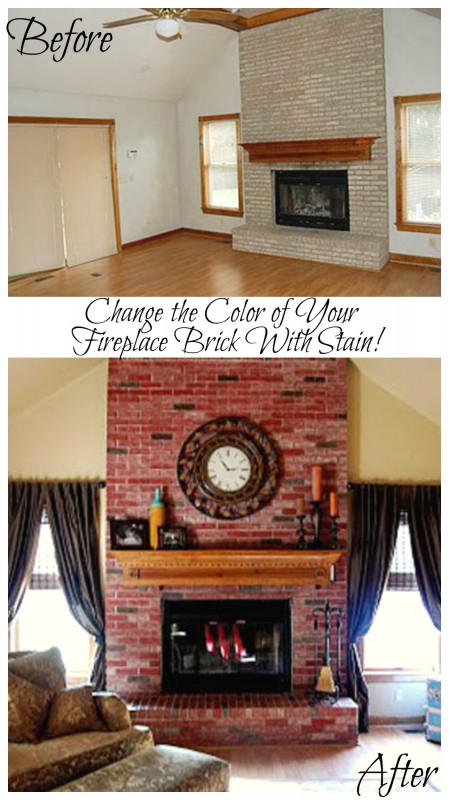 Making the Choice
This decision can be scary. If you read part #1, you know that removing paint from brick can be a time-consuming process. Try to relax and remember that you can always paint over the brick again if you hate it. Paint is pretty cheap, so you could even paint your brick every couple of years, just to keep things fresh.
Ask yourself: "Do I want my fireplace to stand out or blend into the rest of the room?" The color and technique you choose determines how much the fireplace stands out or blends in. Do you want to:
1. Keep it Natural?
Whitewashing has a calming effect and really blends in with the rest of the decor. This is because it diminishes or "mutes" the red tones in your brick. Using one of the three Brick-Anew colors that best matches the color on your walls also allows the fireplace to blend in while keeping a natural brick look.
2. Create Contrast?
If your walls are a light color, painting your fireplace brick a dark or vibrant color creates an interesting contrast. Or you could stain the fireplace brick in rich dark tones. German schmear creates a nice contrast between the white paint and the dark brick underneath. Painting the mantel or surround is another easy way to create contrast. White brick with a black mantel is a bold contrast.
3. Go Monochromatic?
If you really want your fireplace to blend in, try painting it the same color as the walls. Or consider painting it a similar shade to the rest of the furniture. Creamy and muted colors like grey and beige look great on brick, and matching colors makes your decor look planned and cohesive. This does take an emphasis off the fireplace as the focal point of the room.
Those are some broad tips to get you thinking about what styles are important to you. Here are some Quick Tips that provide more specific advice:
If your space has bold colors and textures, paint your brick black.
If your space has modern greyscale tones, paint your brick a vibrant color.
If your space has an eclectic, timeless feel, paint your brick using German schmear.
If your space is vintage and chic, paint your brick using whitewash.
If your space has a relaxed, laid-back vibe, paint your brick a solid neutral color.
If your space is elegant and formal, paint your brick using stain.
The Brick-Anew natural-look Paint Kit has three different color choices and works with just about any space.
Before and After Pictures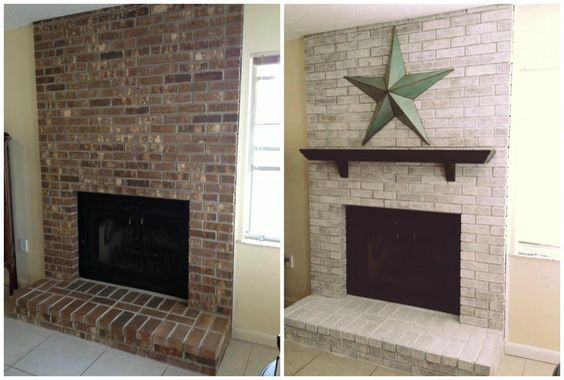 Final Thoughts
Each of the methods listed above gives fantastic results so just think about what's important to you and your decor. Whatever you choose, you'll have a beautiful updated fireplace for a fraction of the cost of resurfacing or rebuilding. In part #3 I'll give step-by-step instructions for each of the methods above. See you then!