Painting brick used to be frowned upon by most people. However, a mini revolution in the design world has taken place. Many new techniques, colors, and products have been developed to help you update that old brick fireplace with paint.
Some homeowners have fallen in love with the painted brick look. Others are using new techniques and products to lighten their brick while maintaining the natural brick look.
In this article, we'll talk about whether painting your fireplace is right for you, technique choices you have, and some simple step-by-step instructions.
Can You Paint a Brick Fireplace?
Yes. Yes. Yes. Painting a brick fireplace has never been simpler. You'll find advice, tips, pictures, and videos all over the internet.
The main question to consider is whether you should paint your brick. If you don't like your current brick fireplace, you essentially have three options: remodel, resurface, and paint.
Remodeling is the most expensive of the three options. This is not a DIY project; you'll need a contractor. Tearing out the brick and replacing it is time consuming so you'll have a crew in your home for at least a couple days. This can cost thousands of dollars.
Resurfacing is a somewhat easier solution. Depending on your comfortability with DIY projects, you may be able to do it yourself. The price of a project like this mostly depends on the material you are resurfacing your fireplace with. If you want more info on this option, This Old House has a good step-by-step guide.
Painting is the easiest and cheapest of the three remodeling options. It can usually be completed in just a day, though if your fireplace is huge it might take a bit longer. Most painting options will cost under $200 and can be completed by a DIYer of any experience level.
The best part about painting is that if you hate it, you can usually try another color or use a different remodeling option. So if you hate your brick, give paint a go first. Hundreds of homeowners have been surprised by the fantastic results of paint on brick. You can always resurface or remodel if you hate it.
What is the Best Way to Paint a Brick Fireplace?
Honestly, there is no objective best way. Here at Fireplace Painting, our favorite method is the Brick-Anew paint kit. You get the look of natural brick for the price of paint. This is a great way to brighten your fireplace without resorting to a painted look.
That being said, there are all sorts of techniques you can use for great results. The question is: what do you like the best? Here is a list of popular techniques with pictures to get you inspired:
One Solid Color: The Painted Look
You can choose any color you want from a vibrant pink to a neutral beige.  If you pick a color that matches your walls or decor, your fireplace will blend into your living room.  If you pick a bold color, your fireplace will be eye-catching and bring life to the room.
Whitewashing: A Muted Brick Look
Whitewashing uses a mixture of water and white paint to cover some of the brick. You get to decide how much of the brick you want to show through the paint. This brightens the room while somewhat preserving the natural brick look.
German Smear: A Timeless Look
German schmear is technically not a painting technique, but it's similar enough to include it.  Like whitewashing, you smear something onto the brick to cover as much or little of it as you want.  Instead of paint, however, you use mortar.  This creates a timeless, somewhat antique feel that is quite lovely.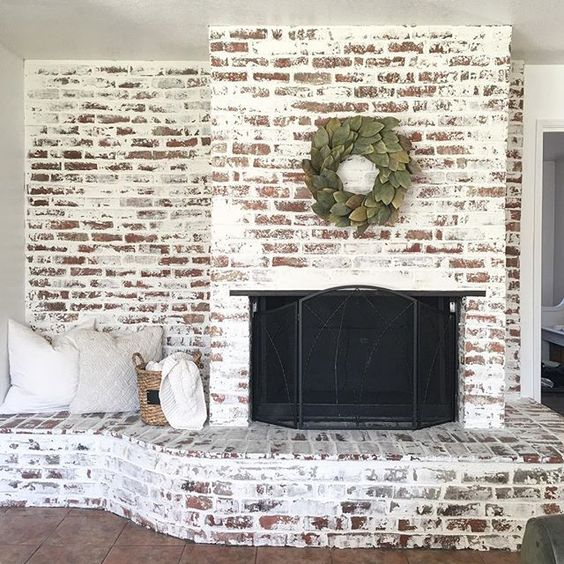 Limewashing: A European Trend
Limewash is super popular in Europe right now and is just making its way to the states.  It is similar to whitewashing and German smear, but it has its own unique characteristics.  Take a look at the pictures to see what I mean.
Brick-Anew: Truly Natural Brick
The Brick-Anew paint kit is an all-in-one kit.  It comes with multiple colors of paint and everything you need to apply them.  In addition, you'll get an instructional video showing you how to paint your fireplace in a way that makes it look like natural brick.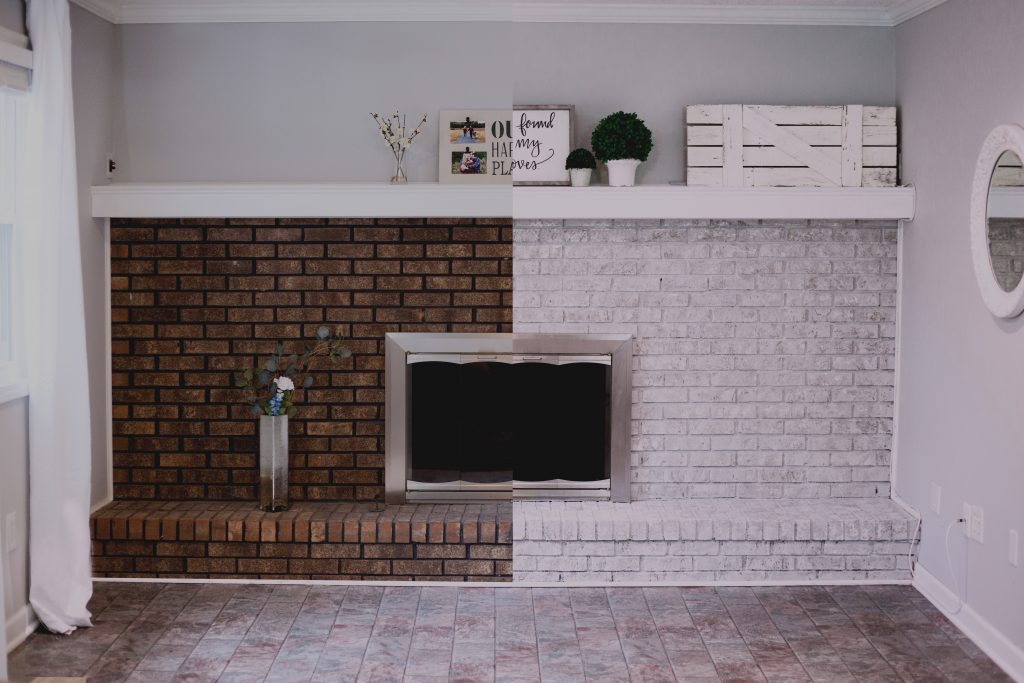 What Kind of Paint to Use on a Brick Fireplace?
The type of paint you choose will mostly depend on the technique you want to use. Just remember that paint is hard to remove so go with a high-quality paint from the start. If you're going with the one-solid-color look, be sure to apply a quality primer before the paint.
How to Paint a Brick Fireplace Step-by-Step
At this point I'm sure you've guessed that each of the fireplace painting techniques have different methods to follow. I'll give you a general overview here; you'll get a sense of what steps are needed and how hard the project will be for you. For in-detail instructions for the different techniques, check out part #3 of our Fireplace Painting Guide.
Prepare: Cover any furniture or flooring nearby with drop cloths.
Clean: Scrub the brick with soap and water at minimum, rinsing off the soap as you go. If your brick is heavily stained or dirty, you can use a brick cleaner. This cleaner is important no matter what technique you chose. If you are doing a painted look, the stains can show through the paint over time. If you are doing a method where some of the natural brick shows through, you want that brick to be clean and beautiful. Make sure to let the brick dry completely before painting.
Tape: Tape off the fireplace to protect the walls, the firebox, and any other areas you don't want to get paint on.
Paint: Let's get painting! Make sure you're getting into the cracks and watching for drips. Start at the top and work your way down. If you're doing multiple coats, let each individual coat dry before moving on to the next one.
Seal (optional): Since you've put so much time and effort into your fireplace, consider sealing the paint with a matte top coat. You won't be able to see it, but it will protect the paint and make your beautiful fireplace super easy to clean.
Final Thoughts
Painting your brick fireplace is a super easy way to update and add value to your home! You can drastically change the look of your space for under $200. Check out part #2 of our Fireplace Painting Guide for help choosing the best painting method for your space.