Unless you've lived under a rock for the past few years, chances are you've heard of chalk paint, which has become all the rage among DIYers.  Named for its chalky, matte finish when it dries, chalk paint can be just the thing for a quick and easy fireplace makeover.
With no sanding, stripping, or priming needed, chalk paint gives excellent coverage and the process is simple.  This water- based paint will cover 150 square feet per quart and will even work on surfaces that have been previously painted.
Since this type paint works on so many surfaces including walls, wood, brick, and stone, the fireplace is a great place to try it to create a new look. Let's check out some ways you can use chalk paint to transform a boring outdated fireplace into a modern masterpiece.
Painting Fireplace Brick or Stone
Whether your fireplace is made of brick or stone, chalk paint can be painted right over the surface without any primer, sanding, or stripping. The non-toxic, virtually odor free paint is water based and has minimal volatile organic compound (VOCs). A little paint goes a long way for easy coverage so just one coat is usually enough. The paint can be thinned with water or allowed to thicken by leaving the lid off overnight. This technique is very forgiving and easy to manipulate to get the look you want.
Since chalk paint is water based, it's not flammable. Chalk paint can be used on the hearth and fire surrounds which do not get very hot. This type paint is not, however, for use inside the firebox where the fire burns - a special high temperature paint is required for that area.
You can achieve a variety of different looks with chalk paint including painting on a solid color, to whitewashing, to getting a distressed look.  Water based chalk paint will cover around 150 square feet per quart.
Painting a Solid Color
Painting your fireplace brick or stone a solid color with chalk paint is a super easy easy way to get a fresh new look fast. Whether you decide to go for a bold dark color or crisp light shade, the results will be amazing.
To get started, choose your shade of chalk paint. There are plenty of shades to choose from white to gray. No primer is needed. All you need to do is clean your brick to get rid of all dust and dirt, and you're ready to get started.
Pour a little paint into a small plastic tub and start applying the paint with a sturdy brush covering all the brick and mortar with the paint.  If the mortar is recessed, you might need a small brush to get into the crevices. You paint on a thin coat, letting some of the original brick color show thru or paint on a thicker coat covering the brick completely, depending on the look you prefer.
On her blog, Lovely Etc. Carrie describes how she got the wild idea to paint her brick fireplace a bold navy color with chalk paint.  She says she absolutely loves it! Her fireplace was previously painted white but she preferred a less boring look. So she combined Americana Decor Chalky Finish Paint using the colors Relic and Legacy to create this beautiful shade. 
Painting your fireplace with a solid color chalk paint, whether it's a bright crisp white or a bold dark shade, gives your room an immediate transformation for very little cost.  And the good thing about paint is that if you don't like it, you can always paint over your last project with a different color paint to get a whole new look.
DecoArt Americana Decor Chalky Finish Paint - Relic
On her blog, Sew a Fine Seam, Jill Flory describes painting her mom's fireplace with Annie Sloan's Pure White to brighten up the room.
DecoArt Americana Decor Chalky Finish Paint - Legacy
"It's so fun when you can prove to the men that our ideas do turn out quite nicely!"
She says she loves how chalk paint adheres to almost any surface.  She had to talk her mom into letting her do the project to cover up the red bricks.  The fresh white color looks amazing and Jill says even her dad, a skeptic of the idea, liked the new look.  "It's so fun when you can prove to the men that our ideas do turn out quite nicely!"
Whitewashing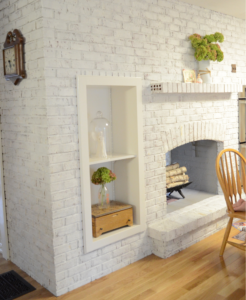 Whitewashing with chalk paint is just like it sounds - painting over the brick or stone surface with a thin mixture of paint and water.  This technique allows the original brick to peek thru but the color is toned down significantly creating a more neutral. First, choose a light color paint like a shade of white or cream.
There are a number of formulations for the water/paint ratio so you might want to try a couple before deciding on one you prefer. A basic rule of thumb is mixing half water and half paint, then stirring the mixture.  
The more water you add, the thinner the mixture and the more the original brick color will peek thru. For more coverage, add less water. After brushing on the paint, being sure to cover mortar lines, take an old rag and wipe the wet paint across each brick or stone.  If the mortar lines are dark, you might need to use a small brush to cover them completely. Have several old rags handy in case the rag you are using gets filled with too much paint. That's it! Easy, Peasy.
"Be brave. Paint your fireplace!"
Here's a before and after Erin shared on her blog, Erin's Art and Gardens.  She used Annie Sloan Paris Gray to whitewash and tone down the look of her 1970's dark stone fireplace to create a fresh neutral look. She describes the new look as "fresh and gray and oh, so neutral".  All she did to her 1970's stone and mortar was dust it off before she started painting.  
Erin used ¼ cup of paint to ¾ cup of water.  She used an old paint brush to wash the mixture over the stone and mortar, letting it soak in the stone.  She then applied a second coating so the brown stones would not peek thru. After that, she used very little of the Paris Gray chalk paint mixed with a little latex paint on her brush and highlighted parts of the stone, using a rag to wipe off any visible brush strokes as he went along.  Erin says she has no regrets about painting her fireplace and encourages other homeowners by saying, "Be brave. Paint your fireplace!"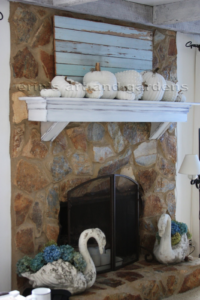 Annie Sloan Chalk Paint - Paris Grey
Painting the Mantel
Painting the mantel with chalk paint gives an instant boost to any fireplace.  Whether you have a full surround or just a shelf, chalk paint can give your fireplace a new fresh look.  You can choose to paint you mantel a light white color to match your trim or a darker color to accent lighter brick and match dark hardwood floors.
No sanding is necessary and you can layer on 1-3 coats. A light neutral color such as cream adds a light airy look to any fireplace. If you want to layer on the wax it's an optional step.  After allowing your chalk-painted mantel to dry, use a wax brush or cotton lint free cloth and apply the chalk paint wax, sweeping it across the painted surface. Use a cloth to go over the wax to remove any excess wax.  If you'd like a polished looking finish, let the mantel dry overnight and buff the waxed surface.
 Our Recommendation:
"Rust-Oleum Chalked Ultra Matte Interior Paint - Chiffon Cream"
"Jolie Finishing Wax - Black"
Annie Sloan Chalk Paint Starter Kits
You can choose a kit to fit your needs with the Annie Sloan Chalk Paint Kits. Whether you want a solid opaque look or whitewashed, this paint can be used to get a variety of looks.  This water based paint covers up to 150 square feet per quart and adheres to almost any surface without sanding, stripping or priming.
With all the materials and paints you need to do your project included, the kits provide an easy way to purchase the products all together instead of separately at a discounted price.  Choose from Starter Kit 1, 2, or 3.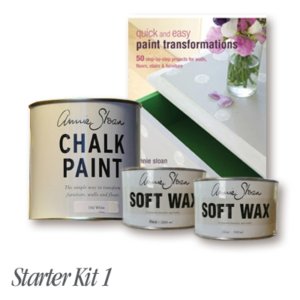 At $99.85, Starter kit 1 includes:
1 Chalk paint decorative paint by Annie Sloan in Old White
1 Annie Sloan Soft Wax Clear
1 Annie Sloan Soft Wax Dark
1 "Paint Transformations" Book by Annie Sloan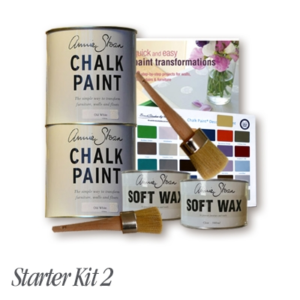 At $156.00, Starter Kit 2 includes:
2 Quarts of Annie Sloan Chalk Paint (Your Color Choice)
1 Annie Sloan Soft Wax - Clear
1 Annie Sloan Soft Wax - Dark
2 SIFP Wax Brushes
1 Chalk Paint Decorative Paint - Chart
1 "Paint Transformations" Book by Annie Sloan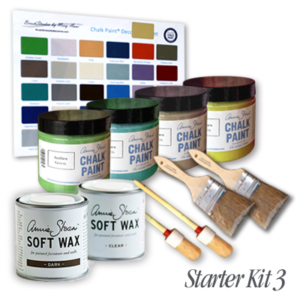 At $84.00, Starter Kit 3 Includes:
3 Sample Pots of Annie Sloan Chalk Paint
1 Annie Sloan Small Soft Wax
1 Chip Brush
1 Chalk Paint Decorative Paint Chart
Using chalk paint is a fun creative way to add new life to anything from furniture to fireplaces.  Since no experience in painting or special skill is required, chalk paint is an easy, fun, inexpensive way to update your ugly brick. If you like a solid painted or whitewashed look for your brick or stone, chalk paint could be the answer to your ugly brick problem.
Looking for a more natural brick look for your fireplace? Check out our article on Brick-Anew fireplace paint, a product specifically designed to give your fireplace a real brick look.