Dull, dark outdated brick can ruin the look of your entire room.  With the recent trend of light, bright and white decorating, there's no room for a bright red brick wall or a dark brown brick fireplace from the 1970's.
So what's a homeowner to do? Tear down the offending structure and spend thousands of dollars in the process? Not necessarily.  There's a less expensive option that will cover up the brick and give new life to your room. Perhaps you've heard of it. It's called "whitewashing".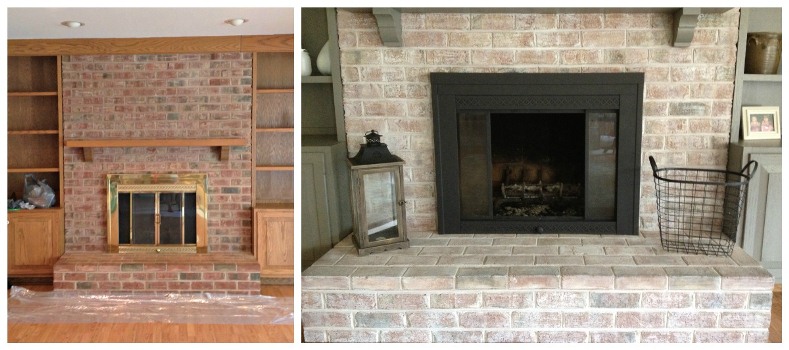 Whitewashing involves applying a thin coat of white paint mixed with water all over your brick to tone down the dark color and create a lighter, softer look.  The technique, relatively inexpensive and not too time-consuming, requires little expertise so even the least experienced DIY'er can tackle the project and feel confident the results will be perfect.
Looking for the right product to start your whitewashing makeover? Our favorite is the Giani Brick Transformations Paint Kit. This product is affordable and get's the job done with little hassle.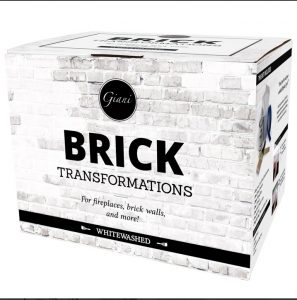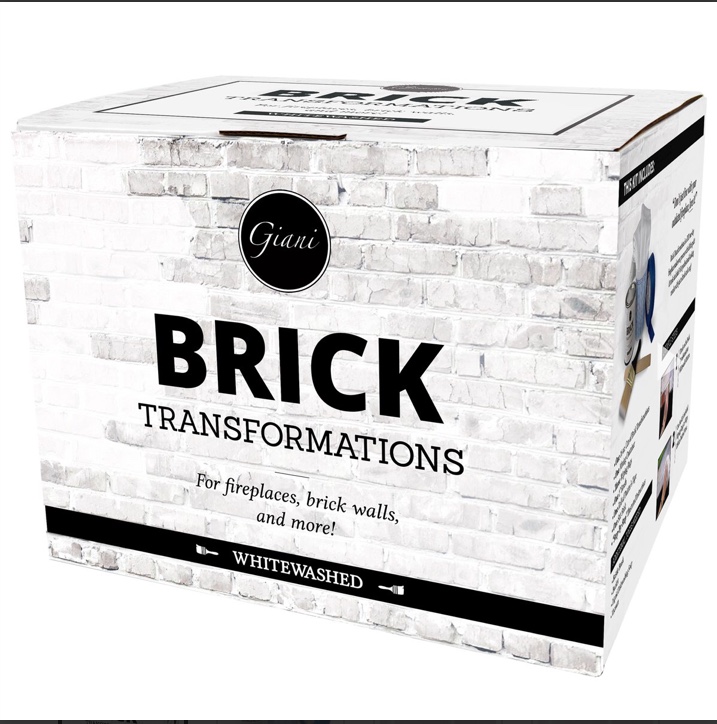 Project Overview
-Lay down a drop cloth to protect your floor.
-Clean the brick using a scrub brush with mild detergent and water.
-Use painter's tape to tape off areas around your walls and other areas where you don't want the paint to spill over.
-Mix a 50/50 solution of white latex paint and water and stir well.
-Apply the whitewash solution to your brick using a paint brush.
-Use a rag to wipe the paint off the bricks as you go so that only a thin layer of paint remains.
Easy Brick Whitewash Instructions
Clean the Brick- Lay down a drop cloth to protect floors from cleaning solutions and paint.  If your brick isn't too dirty, you can use a mild detergent and water and a scrub brush to remove any dirt, dust, or debris.  Then rinse the brick and let it dry. If your brick is very sooty, you will need to use a stronger solution to remove the stains such as trisodium phosphate (TSP). If you use TSP, be sure to use caution and protective gloves since it is very strong.
Prepare to Paint - Use a good painter's tape to tape off any areas around walls, ceiling, mantel, or fireplace insert where you don't want paint to spill over.
Mix Whitewash Solution - Pour a 50/50 mixture of white latex paint and water into a plastic container and stir well. You will have a thin, watery mixture. Be aware that this mixture is drippy and messy, so be prepared with paper towels and old rags in case you need them.  You can adjust the paint to water ratio depending on if you want a whiter or a little less white.
Apply Whitewash - There are a couple of common whitewash techniques. The first involves using a brush to apply the whitewash mixture to all the bricks and the mortar, wiping off the bricks with a cloth as you go.   Another technique involves dampening the brick with water in a spray bottle and then using a balled-up cotton rag covered in the whitewash mixture to wipe onto the damp brick surface and then using a small brush to get into any recessed mortar.  
Experiment on a few bricks and let the paint dry so you can be sure you get the look you want.  Most brick is porous and the paint will need to soak in before you'll see how it will look. After the paint dries, the bricks will show thru.  
Whether you're whitewashing a brick fireplace or a brick wall, this easy and inexpensive technique will deliver fast results. With a few materials you probably already have in your garage and a couple of hours over the weekend, you can give your dark brick look fresh look in a snap.
Looking for more options for painting brick? Check out our article reviewing the Best Brick Painting Products of 2019.