A fireplace is a fantastic addition to almost any room, however sometimes, you may want a change. For example, if you've moved into a new home with an outdated tile fireplace or want to revamp your room with a new color scheme, you might need to consider a bit of painting.

Many people shy away from painting a tile fireplace because they think it will be a difficult job, so they end up stripping the whole thing instead, which costs more time and money. However, you can actually paint fireplace tile in a few simple steps, and we have outlined them for you below:
Supplies for painting fireplace tile
Before you start painting fireplace tile, you will need to gather the right supplies.
Latex paint that is made especially for mantels and tile
Painter's tape
Paint brushes
Paint foam rollers
Primer
Tile cleaner
Plastic tarp
You can either gather all these products separately for your project or purchase the Brick Anew Fireplace Paint Kit. It has everything you need for your project, including the paint brushes, rollers, tape, and five shades of paint, so you have a lot to choose from. You're guaranteed a natural finish and beautiful tiles that will keep your tiles looking new and modern.
Step 1 - Clean the fireplace mantel
Before you paint the tile on your fireplace surround, you need to start on the mantel. However, these first three steps only apply if you want to change the color or finish of your mantel alongside the tile. 
You need to sand and clean the mantel first. It is best to use an electric sander for a seamless job, but you can also consider sanding blocks and sandpaper. After this, you need to give the surfaces a good wipe down and remove any excess residue. Also, ensure you have applied the plastic tarp along the floor to avoid more mess.
Step 2 - Tape off the mantel
You only want to focus on painting your mantel right now, so you want to avoid getting any paint on the tiles on the rest of your fireplace. Due to this, you need to tape off the mantel from the tile. You can also choose to tape it off and cover the tile with a plastic tarp. Either way, it will help give you smooth lines and an even finish. 
Step 3 - Paint the mantel
It is now time to paint your mantel! The type of paint doesn't have to be the same as the tile, especially since mantels are usually made out of wood or metal. However, you should still use a primer beforehand, applying at least one layer.
When you are ready to add color, you can either use a roller on the larger sections and a paintbrush towards the ends and edges, or you can use spray paint to make the job much quicker. If you do decide to spray, ensure you have covered the rest of your fireplace.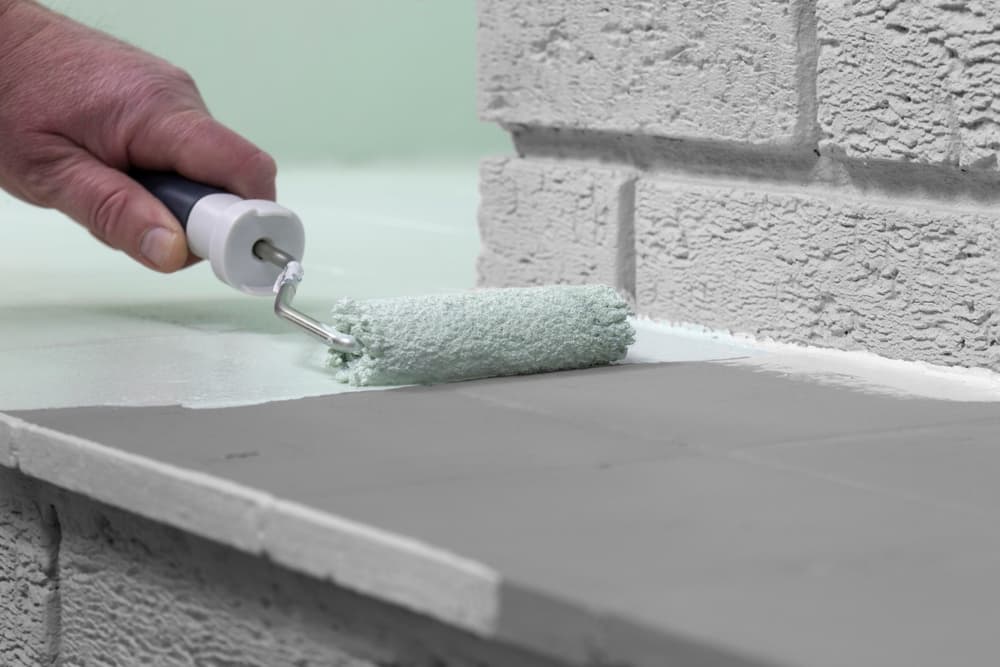 Step 4 - Clean the fireplace tiles
Once your mantel has dried off, you are now ready to move to the main part of the fireplace: the tiles. However, just like with your mantel, before you start, you must clean the tiles to ensure they are prepped and ready for painting. You can sand down your tiles too, so they are smooth, but this is a personal preference, and best if they have any lumps or cracks in them.
Following the sanding, you should use your cleaning solution and a damp cloth to wipe down any debris and dust off the tiles as well. You want to guarantee that they are entirely clean and ready for paint.
Step 5 - Tape off the rest of the fireplace
The tape from your mantel should still be on your fireplace, so you should leave it there. However, if it has started rising or you would like to apply a clean layer of tape, you should do so. There will also be other sections you should tape off, such as the floor and the walls next to the surround.
Step 6 - Paint the fireplace tiles
Last but not least, it is time to paint fireplace tile! Like your mantel, you'll want to apply a primer layer to the tile first. One coat should be enough, but if you want to apply more, you can do so. You should then use the paint color of your choice to go over the primer layer once it has dried. Apply as many coats as you like until you have the finish you desire.
Using a paint roller for tile is good because it provides a smooth finish. Paint brushes are known to leave brush strokes on tile, but of course, the choice is up to you. You may want to use paint brushes to go over the grout lines with white paint to provide your fireplace with a clean look. 
Final thoughts
After following these steps, you should have a freshly painted tile fireplace! It will depend on the paint you use and how quickly it dries, but the job shouldn't take more than two days. Once everything is dry, you can remove the painter's tape and the plastic tarp, and you will no doubt be amazed at the result.
As you can see from these six steps, the process of painting a tile fireplace is really not difficult. You can even skip the first three steps completely if you are happy with the color and finish of your mantel.
Follow these steps closely, and you will have the fireplace you have always dreamed of.
Frequently asked questions
Want to know a bit more about painting fireplace tile? Here are our frequently asked questions:
Will the paint chip off the tiles over time?
After a few years, you may notice a few minor scratches on the tile, but you can simply repaint these areas, and they will disappear!
Can I paint over high-gloss tiles?
Yes, you can! All you have to do is ensure you sand over the tile a little more so you have more of a matte finish before painting. Also, be sure to remove any excess dust from the sanding.
Do I need a seal on the tiles as a top coat?
No, you don't have to, especially if you're happy with the finish the tile paint has provided. However, you can choose to add a seal if you wish.