One of the most effective ways to transform a room is to paint your stone fireplace. Stone is a wonderful material to work with as it provides homeowners with versatility and offers you a foundation for many different color schemes.
There are several popular painting techniques used by interior designers that you can incorporate into your home. These design techniques are used to brighten up a space and allow the room to work with natural light and other key features. In this guide on how to paint a stone fireplace, we'll take a look at the materials and tools you need to use to do it yourself, in any color you want.
We will also have a look at what the best paint options are to give you an idea on how to best shop for your stone fireplace paint. Finally, there are several techniques you can use to paint a stone fireplace, from traditional methods using paint brushes and roller brushes to whitewashing,
Depending on the look you want, both are fantastic ideas for creating atmosphere in your room. Keep reading to delve into how to paint your stone fireplace.
How To Paint a Stone Fireplace White
Painting a stone fireplace a solid color like white can change the look of your room in just a few hours.
When deciding on painting fireplace stone a shade of white, consider the look you're trying to achieve. Think about your wall color and a shade that would complement the room nicely. There are many shades of white, from creamy beige undertones to yellowish undertones. So be sure to hold up paint samples to see which shade looks best with your wall color. You don't want the shade to look too stark. If white doesn't work for you, you might decide on a light neutral shade of gray or tan.
First, clean your stone by brushing off dust and dirt with a small broom. You can use a sponge or scrub brush and a bucket of soap and water to remove any grime or soot. Next, use painter's tape to tape off the area you're going to paint to protect the floor and the walls. Then, lay down a drop cloth on the floor in case the paint drips.
After the stones are dry, use a sturdy paint brush to brush one or two coats of an oil-based primer all over the stone and mortar. Then you can choose the water-based paint shade of your choice for your painted stone fireplace, for an instant transformation! Check out this beautiful "after" picture from Greige Design.
Our Recommendations:
How To Whitewash a Stone Fireplace
When painting fireplace stone, you might ask yourself; can you whitewash a stone fireplace? Sure, you can. Whitewashing a stone fireplace involves creating a mixture of paint and water and then brushing the mixture over the stone to create a "whitewashed" look.
Whitewashing your fireplace with chalk paint is one option for this technique. Keep reading to learn how to whitewash your stone fireplace.
Supplies for whitewashing a stone fireplace include:
Gray Chalk Paint
White Chalk Paint
A sturdy chip paintbrush with stiff bristles
Water
Medium-sized plastic container to mix paint
A dropcloth
Sponge or damp rag and extra rags for clean up
Plastic gloves
Paint tape
First, you'll need to spray your stone with stone cleaner and wipe it off with a damp sponge or rag. You can also use warm soapy water. (If your stone is very dirty, you might want to use a stronger product such as TSP). Removing any dust, dirt or soot ensures the surface is clean before you begin painting. Then lay down a drop cloth to protect your floors. The mixture you're going to create will be thin and drippy, so you'll want to make sure the drop cloth is large enough.
Next, create a 50/50 mixture of white paint and water. You can decide how much paint you want to mix at a time. Just make sure each time you mix, that there are equal parts paint and water. Use your brush to apply the paint mixture to each stone as well as the mortar, making sure you get in all the cracks and crevices. Work in one small section at a time. Most stone is porous and will soak up the paint as soon as it's applied. You can wipe off any excess as you go. Since the mixture is thin and watery, there are no worries about seeing brush strokes on your stone.
If you choose to paint on another layer, wait for the first layer to dry completely before applying the next. (For example, you could apply a gray-wash layer using a gray-tinted paint and then apply a white-tinted layer.)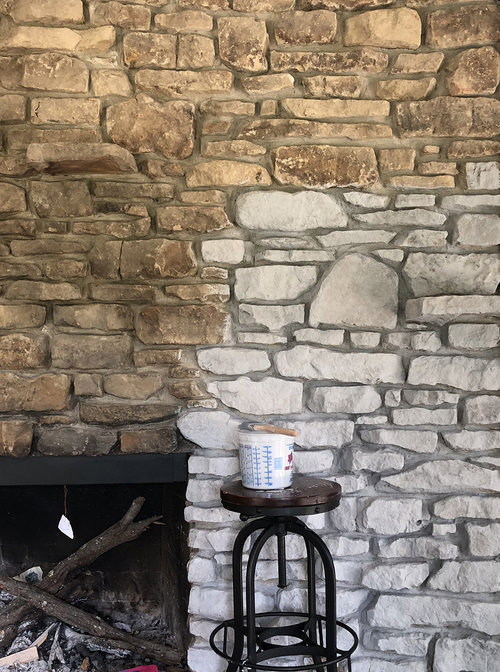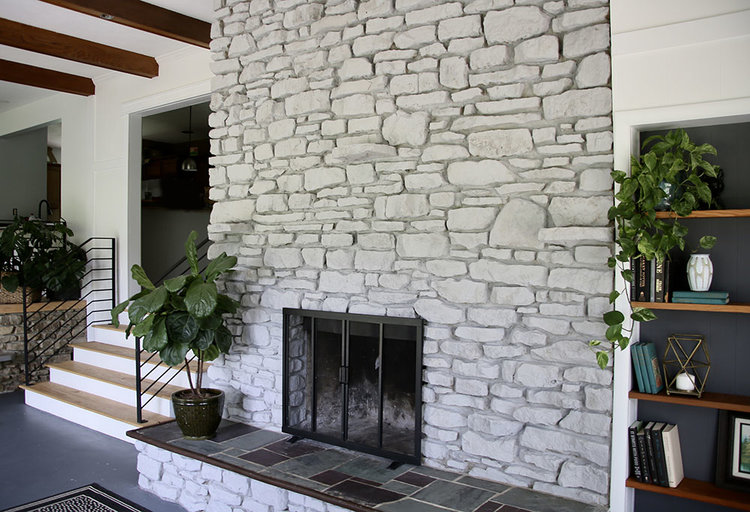 On her blog, Stars + Field, artist Jessica describes how she transformed her outdated painted stone fireplace using gray chalk paint. Her project turned out amazing!
Should I Use Limewash or Whitewash on My Stone Fireplace?
When trying to decide to use the limewash or the whitewash techniques for your painted stone fireplace, there are several things to consider. On the positive side, limewash is anti-microbial, natural, and eco-friendly. On the other hand, limewash is more difficult to work with than whitewash, has limited availability and color choices, and needs to be redone about every few years.
However, whitewash is very simple to apply and you can change the color later if you decide you want a different look. The only downside, as it always is with painting stone, it's difficult to remove if you get tired of the painted look.
Our Recommendations:
Whitewashing with Milk Paint
If you're only just getting into stone fireplace painting, it would be surprising if you had heard of milk painting. Well, apparently this type of paint has been around for years. It's made of dried milk protein and casein mixed with dye to make colors. Sold by TheRealMilkPaintCompany, this paint comes in black, white, and a variety of colors. Milk paint can be applied to the stone and wiped off as you go. Or you can apply the milk paint and then sand areas of the stone to make it look old and worn.
Our Recommendations:
Gray-wash a Stone Fireplace
On her blog "Life on Virginia Street", Sarah gray-washed her dark stone fireplace with chalk paint and it turned out fabulous! She mixed Annie Sloan's French Linen 50/50 with water to create a thin paint solution that she brushed over all her stone. Read all about the process she used here: Life On Virginia Street
Here's another example of gray-washed stone from Erin's Art and Gardens. Erin chalk-painted her outdated brown painted stone fireplace and what a difference it made in her room! Read all about her project here.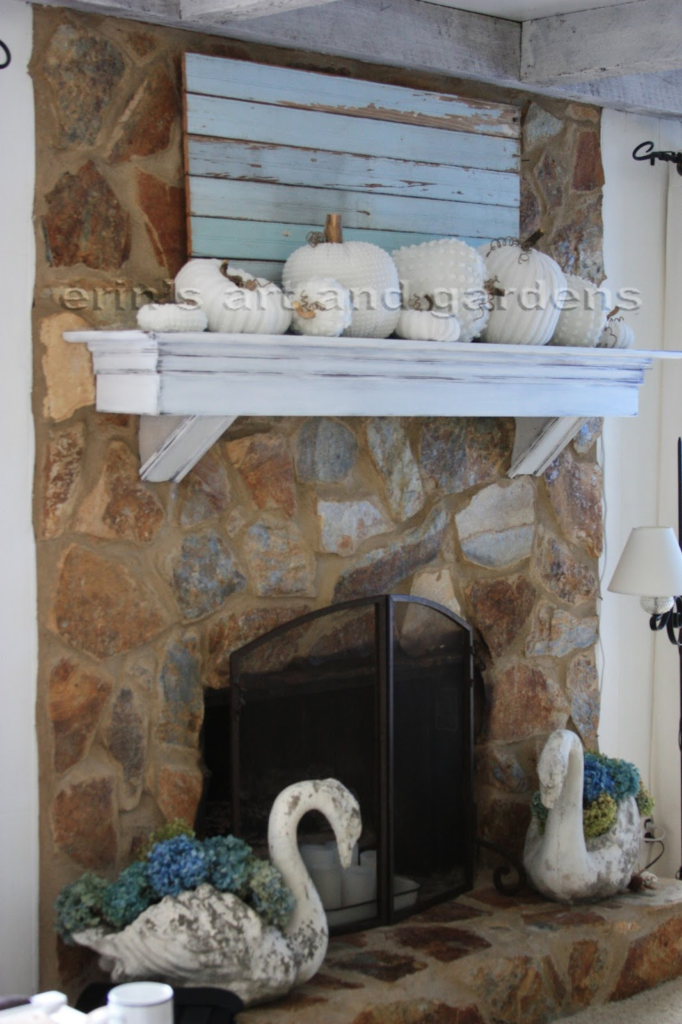 Our Recommendations:
Brick-Anew Stone Fireplace Painting Kit
Painting techniques that give the stone a solid color look include whitewashing and painting. But what if you want to lighten your fireplace while keeping the look of real stone? Brick-Anew Stone fireplace paint kit is a product designed to do just that.
This all-inclusive paint kit comes with everything you need to remodel your stone fireplace (or brick) and keep the variegated look of natural stone. You can choose from three kit colors - Twilight Taupe, Misty Harbor, and Frosted Sunshine. Each kit has its own unique 5-shade latex product combination as well as an instructional video and tool kit that help you transform your ugly outdated stone into a beautiful modern stone fireplace in just a few hours.
Our Recommendations:
Can You Paint Faux Stone?
Even faux stone can be painted! Check out this faux stone fireplace makeover on the adorable website called Juniper Home. Jenny Komenda shares her design work and home products as well as her ideas and projects. Jenny painted the faux stone fireplace in her bedroom and transformed the dark looming structure into a lighter softer version. She simply brushed a white primer over the faux stone and the results speak for themselves!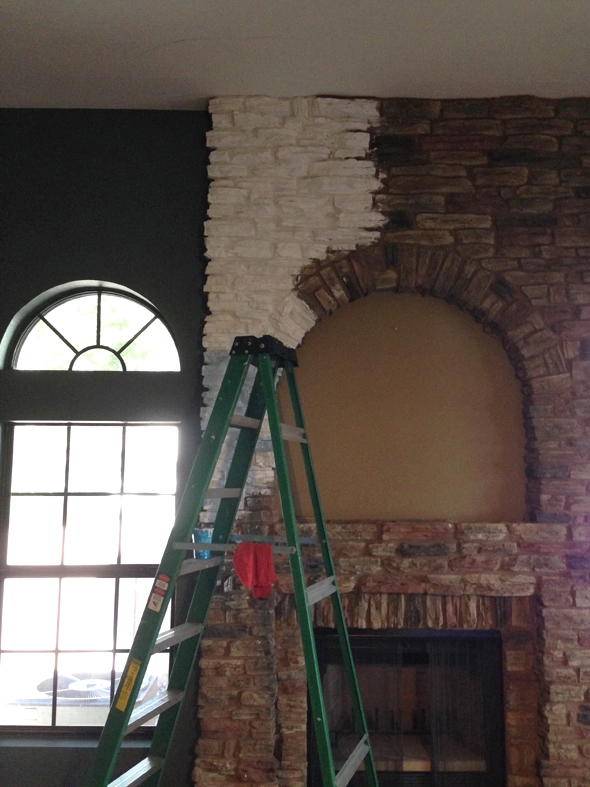 Staining a Stone Fireplace
If you're looking to start painting fireplace stone and you like the look of darker stone, you might be interested in staining your stone fireplace. If you already have dark stone on your fireplace, chances are staining the stone in another color will not work. Staining the stones only works if you have light-colored stones that will change color when the darker stain is applied. You can use concrete stain, available in various shades including browns and grays, to darken light-colored stones.
If you decide to stain your stone fireplace, be sure to go slowly, applying a single layer at a time and letting it dry for a few days so you can see the color before you paint on another layer, taking care not to get stain on the grout lines. If the stones aren't as dark as you'd like, you can paint on another layer until you get the shade you prefer.
A Complete Stone Fireplace Makeover
After you finish your painted stone fireplace project, you'll see that the look and feel of your entire room are different. Lighter, brighter, and more open, your new fireplace may beg for a new set of doors or a new mantel to finish off its new look.
When considering how to update your stone fireplace and stone fireplace surround, think fresh, clean, and simple. Whether you purchase new fireplace doors and a new mantel or you decide to refurbish what you have with a little paint, it's a great time to rethink putting up the same old accessories you've had in the past. The newly painted stone fireplace will likely make the mantel and doors stand out even more than before, so it's important to make sure your fireplace doors and mantel look fresh and new. For example, if you have gold-colored brass doors, consider replacing them with solid black for a more updated look.
A wood mantel can always be replaced with a rustic beam or covered with a paint color that complements the woodwork in your room.
Fireplace Doors: https://brick-anew.com/product-category/fireplace-doors/
FAQs
Do I need to prepare the stone before painting?
Yes, proper preparation when painting a stone fireplace is crucial for a successful job. Clean the stone surface thoroughly to remove any dirt, soot, or debris. You may need to use a scrub brush, mild detergent, and water to clean the surface effectively. Let it dry completely before applying the paint.
How do I choose the right color for my stone fireplace?
Consider the overall style and color scheme of the room. Neutral colors like white, beige, or gray are popular choices for a timeless and versatile look. However, you can also choose bolder colors to make the fireplace a focal point. Get paint samples and test them on a small area of the stone to see how they look in your space and lighting.
Can I paint the interior of the fireplace as well?
No, you should not paint the interior of the fireplace. The interior is exposed to extremely high temperatures, and regular paint will not withstand the heat. Painting fireplace stone interiors can also release harmful fumes when the fireplace is in use. Leave the interior unpainted or use a specific high-temperature fireplace paint made for the inside.