They often are built with stone or old brick that make the overall appearance of the house look older. Do you want to modernize your house? Or are you trying to change the dark feel that your fireplace brings to the room?
Fireplace painting is a safe and rewarding project that will transform the feel of your home. With such a big project, you'll need some direction on how to paint your fireplace and what to use. We're here to help you answer all of your questions and prepare for your DIY fireplace painting.
Preparing Your Fireplace
Cleaning the fireplace isn't usually on the top of your daily to-do list. Because of this, dust, soot, and loose mortar has most likely built up on your mantle. Before doing any painting, it is important that all of this dirt is washed away so that the paint can bond with the surface of the fireplace and last for years.
While soap and water can help, they aren't as effective as professional fireplace cleaners that are made to dissolve creosote without using dangerous acids. The cleaner won't remove stains that have developed on the brick or stone, but there's no need to worry: the paint will cover stains. After you've rid your fireplace of loose contaminants, it will be ready for the first coat of paint!
What You'll Need
If you haven't done any research on fireplace painting, finding the right tools can be overwhelming. Luckily, kits that have all of the necessary materials are available online for an affordable price!
A kit isn't required for this DIY project, but it does save time and money shopping for all the equipment and paint needed. The kit comes with a paint tray, rollers, one sponge, a brush, a roll of masking tape, paint, and an instructional DVD.
If you want to shop yourself, here is what you'll need:
a brush
a roller
painter's tape
a drop cloth
a paint tray
a stir stick
paint (we'll talk about the type of paint in the next section)
What Kind of Paint Should I Use?
The fireplace has three parts: the mantel, the firebox, and the brick.
The mantel can be painted with any paint you like. Make sure you follow the paint manufacturer's instructions when it comes to sanding, priming, etc.
The firebox is the area where your fire burns. Because this area is subjected to high heat, you'll want to use a heat-resistant paint. If you use a latex or acrylic paint, it will start to peel and blister when you light your fire. You can even use spray paint, as long as the paint is heat resistant up to 1500 degrees Fahrenheit. You can also use a heat resistant paint to paint a new color onto your fireplace doors!
The brick is usually painted in a latex paint, but chalk paint can be used as well! What color? that is completely up to you. You can use anything from hot pink to beige. If you're really uncertain, start with a natural color. You can always paint over it again. Whatever color you use, be sure to start with a primer!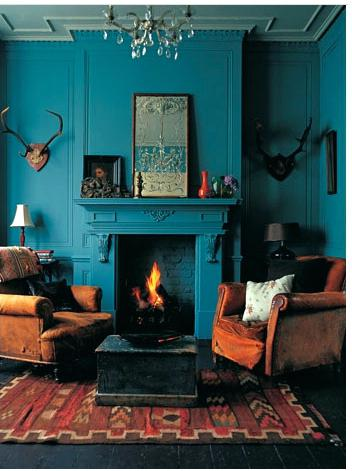 No Regrets
Fireplace painting is such an easy and affordable DIY project, that it is hard to regret. If you absolutely hate it, try using a new color or resurfacing the fireplace. But we doubt, you'll hate it.
Fireplace painting has been gaining popularity over the past several years and will only continue to do so! It's a simple and cheap project that you can complete in just a day or two. Don't keep settling for a fireplace you hate! Pick up a paintbrush today.